Julie and I hope you're enjoying summer and getting some R&R along the way. We are in exciting times of revival and harvest. Please let me share a few travel highlights and what is going on this month.
The Asia Bible School is off to a great start. It will finish at the end of September. I can't remember when I have taught a hungrier group of students. After my classes on June 3rd, I traveled to another state. In the capital city, we held a two-day evangelistic meeting. Our little restaurant venue was packed out. Jesus healed people of various injuries and pain. The next day, about half of the people responded for salvation and just as many were filled with Holy Spirit. My hosts were a wonderful native couple. They have had it in their heart for several years to start a church. So after the event, they are continuing weekly meetings in the same local spot. It is amazing that out of such a simple and short meeting a new church can be birthed but that is exactly what is happening. All the glory to Jesus!
As I traveled on to yet another state, there I met a pastor friend with a gathering of new Christians and Hindus. Jesus touched them so deeply and profoundly. Rather than a lot of physical healing, Jesus freed many from demonization.This seems to be so prevalent in those who have grown up as Hindus. Their new life in Jesus means that their families and friends reject them. Most times they are forced out of their families and many times lose their jobs and livelihood. However, the body of Christ takes them into their homes and treats them as true brothers and sisters. The love and care for one another is beautiful. My heart was deeply moved. Jesus is building His church.
Lastly, I traveled to my final destination. Here we experienced a most wonderful outpouring of Holy Spirit. On the second night I did not preach my sermon. Holy Spirit moved in wave after powerful wave. It was a time of unspeakable joy. The local congregation was in great need of refreshing. Holy Spirit was truly like a river and a fresh wind among us. It was an awesome experience. Your prayers and generosity have made all of the above and more possible. Thank you!
This month we will be back in Colombia. We are conducting an evangelistic crusade in La Ceja, Antioquia. Please agree with us in faith for favor. For the Holy Spirit to draw in the lost, sick, and broken. Please agree with us for finances for this event and for the ministry in general. We never charge people to come to hear and receive the gospel. God has always been faithful to meet every need. We continue to step out in faith trusting Him for everything.
We are praying for God to bless you and meet every need you have in abundance.
Charley & Julie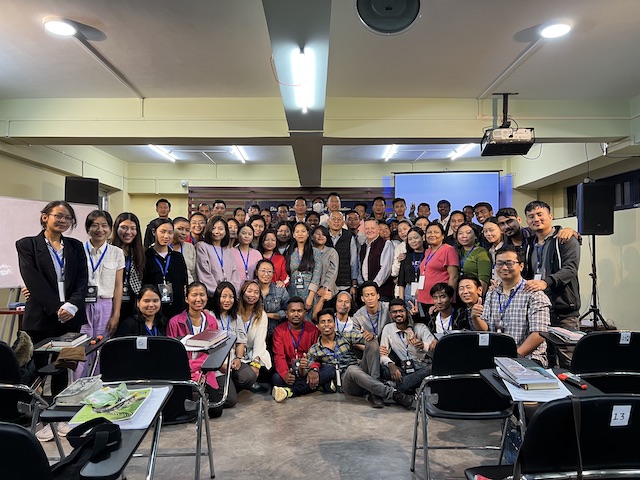 Bible School Students