Dear friends and family,
Julie and I send you a big hug from Colombia. We hope you enjoy a beautiful fall this year. It's our favorite season. While we don't have it down here, we are experiencing a harvest time spiritually speaking.
Let me give a good report.
Paul said in l Corinthians 9:22 , "I have become all things to all men, that I might by all means (at all costs and in any and every way) save some [by winning them to faith in Jesus Christ]."

 

This is the attitude we took during the evangelistic event at the skate park.
We had an absolutely amazing and fun time serving and loving on a bunch wild and wooly young folks from 11am until 8pm. We had different bands perform and three skateboard contests. My favorite part was when we fed the entire crowd hot dogs and sodas around 5:30 pm. I'm not sure how many were in attendance but out of 500 dogs there was not a single one left.
The shekinah glory cloud did not appear, but there was a substantial cloud of marijuana smoke to preach under.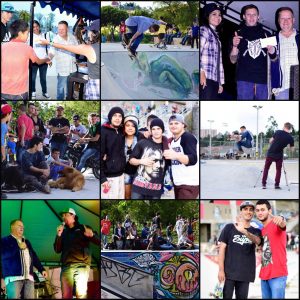 We first prayed for knee injuries and pain. I figured that was a pretty good strategy after an all day skateboard event. To His glory, many raised their hands to signify that Jesus had instantly healed them. Esnaider (a skateboarder and member of our worship team) shared a testimony of the miracle that occurred when Jesus healed him last year in our home. I preached on, "You ride a skateboard but who rides on you?". Gracia shared the testimony of her awesome personal encounter with Jesus and then she prayed with all of the skaters to invite Jesus to come into their hearts as their personal Lord and savior.
After this we gave the awards, had a raffle, and gave all the skaters cool stickers for their boards. Jesus was real happy we did this one. Thanks for helping to make it happen.
Julie has been posting their photos on social media and building connection with some of these guys. Many of these kids have a terrible life at home and are starving for love and attention. It's been amazing to see what God can do as she has taken time to be interested in them and what they are passionate about. Julie is a pretty cool lady in my opinion.
Many were touched deeply last Sunday and God's presence was strong among us in our community gathering. New people continue to come every meeting. Our weekly classes are working good and we are seeing breakthrough in people's lives. In two weeks we will have our second weekend of revival meetings for the area. We increased our publicity and will be inviting more pastors and leaders to join with us. Please pray and agree with us for a great outpouring of the Holy Spirit.
Thank you for keeping us in your prayers. Thanks for being so generous to help us financially. You are sending- -the gospel into dark places and Jesus is being lifted up. We are praying that God's blessing will multiply in your life and overtake you.
With much love,
Charley & Julie