Light Eclipses Darkness
Preaching Jesus and Empowering His People
Perspective is everything.

 

After clearing customs in Mexico City and while making the connecting flight to Cd. Victoria Tamaulipas, a federal officer stopped me and asked me where I was traveling to?

 

"Cd. Victoria" I explained.

 

With a wrinkled brow and serious tone he responded,"Pero es tan peligroso alla". That translates, "But it is so dangerous there."

 

The earlier flight was canceled for lack of passengers and I counted only eleven passengers on mine.

 

Upon arriving, I learned that 25 people had been brutally murdered earlier that morning.

 

Two families including women and children.

 

I was told the severed head of a man was placed on the sidewalk in front of a friend's church and a threatening sign placed upon the door.

 

As the city began filling up with troops, it seemed the darkness, fear, and lawlessness in the atmosphere was so thick you could cut with a knife.

 

It had been a while since I experienced such and we live in Colombia. We must pray for Mexico.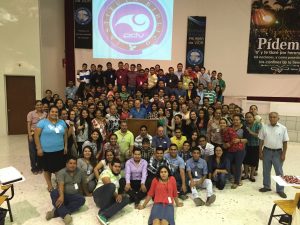 The next morning when I stepped into Palabra de Vida church, what I experienced was quite different.

 

It was the atmosphere of pure light, ecstatic joy, and the love of Jesus.

 

Yes it was the positive energy of spiritually hungry people who have learned to live by faith and trust in Jesus Christ.

 

Literally it eclipsed the darkness outside the doors.
That darkness could not come in. After our amazing time together in the love, light, joy, and presence of Jesus, we walked out those doors beaming as His children and overcame the darkness!
We taught and activated healing ministry in 120 of the most thirsty and sincere Bible students I have ever had the pleasure to instruct.

 

Thursday evening in Barrio Moderno, we started our salvation and healing crusade.

 

Earlier that morning bad news had arrived concerning a family of six Christians.

 

All had died the night before including an infant when the cartel mistakenly hit them instead of the house of rival cartel members next door.

 

My heart just sank.

 

Darkness returned forming a canvass for sorrow, righteous anger, as well as negative emotions.

 

Could we legitimately expect a single soul to come out at night to an open-air meeting under such circumstances?

 

Much to my relief Jeremy Crow arranged for the state police to provide security to our ministry site.

 

I know we have angelic protection but five men in uniform with automatic weapons was more-
-than a little comforting to a "fire breathing evangelist".

 

Ha ha yeah, I was just glad to be breathing period.
As the sun began to set, little by little people trickled in to sit on the blue metal chairs and listen to the students sing about the love of Jesus.

 

From Matthew 16:13, I preached, "
Who do you say that I am
". A woman, whose son is a student, was gloriously saved along with twenty-three others.

 

She had been angrily opposing Jesus and her son's new found faith.

 

She cried and trembled as she testified to the peace and cleansing she felt when Jesus came into her heart.

 

Then from the stage she shouted to her son, "Son I love you and I am so proud of you."

 

Finally she publicly thanked him for following Jesus first.

 

1 John 5:4, "For whatever is born of God
overcomes
the world.

 

And this is the
victory
that has
overcome
the world even
our faith
". A blind man began to see, a deaf man's ear opened, and another paralyzed from a stroke regained use of his arm.

 

A crippled lady who came in a wheelchair walked home.

 

Jesus Christ is still the hope of all nations including Mexico and ours.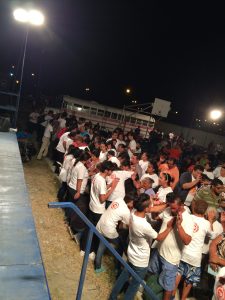 Friday night came and went with many more salvations, healings, and much breakthrough.

 

Under the open sky, to the sight, sounds, and rhythm of a full Mariachi band we worshiped Jesus together.

 

I have to believe as the people in the barrio heard the happy tones they felt free to come out of their homes.

 

Our crowd more than doubled as did the number of those who came forward to receive Jesus Christ as their personal savior.

 

For the first time in my life I preached simply from John 3:16.

 

It has always been too grand of a scripture for me to scale but by God's grace and inspiration it was done. Holy Spirit made deep conversions in the people's hearts that night. 
On Saturday night twenty troops provided extra security in the neighborhood.

 

The Mariachis transformed into a Ranchero band.

 

The response for salvation more than doubled again.

 

At the end of the meeting, I played the fiddle with the Ranchero band.

 

It was a really rusty and terribly scratchy version of the old fiddlers breakdown, "Boil Them Cabbage Down". In my heart I was praising Jesus and thinking, "Oh Jesus, how I love all this and how I love You", as I smiled and thought, "Yeah satan, Jesus just boiled your devils down".

 

A total of 266 souls prayed with our crusade team to receive Jesus into their hearts.

   
From the church services and crusade efforts combined,
more than 300 souls now know Jesus Christ.
 

For them I can say, "Oh death where is your sting? Oh hell where is your
victory?" 
I felt relieved as the plane lifted me off to safety Monday morning.

 

I can say that leaving behind 120 students with the fire of the Gospel burning in their hearts and the healing power of Christ flowing from their hands felt pretty good. I even felt brave for a second. Then as the plane climbed through the clouds and turned toward Mexico City my heart reflected on my friends and I began to weep for the true heroes.

 

They are: missionaries Bobby, Lynn, and Jeremy Crow
and the thousands of
Christians in Cd. Victoria
who will not bow nor retreat.

 

To them I say, thanks be to God Who gives
you
the
victory
through our Lord Jesus Christ.
To our family, friends, and partners, and to those who may fear these days in which we are living, I remind you of this scripture "And I saw something like a sea of glass mingled with fire and
those who have victory
over
the
beast
, over
his image
, and over
his mark,
and over the
number of his
name, standing on the sea of glass having harps of God" Revelation 15:2.

 

In Victoria my harp was a fiddle. What is yours today?

 

Pick it up.

 

Let us play, let us pray, let us worship, let us praise, let us give, let us heal, and let us share the good news of Jesus Christ.

 

Let us love. Let us "Boil them devils down"! 
Please let me mention that we stepped out and purchased $2,900 in new sound equipment, rented an event center, printed publicity, and are now are holding nightly revival meetings here in Rionegro, Colombia.

 

We have also had other expenses this June and July. Thanks for agreeing with us in prayer for what we need to catch up which is close to $11,000.

 

If God lays it on your heart to help us catch up, I just want to say thanks.
Julie and I love
and
thank God for you,
Charley & Julie