On three occasions I was blessed with the opportunity to briefly visit with this elderly couple.  They are both 95 and have been married 72 years. Our last conversation started concerning Christmas and the virgin birth. At the end, it was my great honor to pray with them to receive Jesus Christ as Lord and Savior. The gentleman was so happy and exclaimed that this was what he always wanted. It made my Christmas. Wow. Born again at 95. Jesus is so amazing!
I am making friends with Pastors Martin and Lilliana, pictured below. They are pastoring for their first time. Their church, which is in Rionegro, is a little more than one year old. It consists of ninety percent young people in their twenties. This is awesome but has been financially challenging. Because of your Generosity Soul Harvest was able to help them catch up their rent and bills. They did not have a corporate prayer meeting so I helped them get one started and have been teaching Tuesday mornings on prayer and intercession. Already we have seen God's answers. Five of the new converts who had stopped attending earlier this year have come back. Also, three Sundays ago the offering was the best it has been in their short history. They invited me to minister to their leaders on a Saturday and then preach the Sunday morning service. I learned that only Pastor Martin, Lilliana, and one member had received the baptism in the Holy Spirit. So I took this as my subject for both meetings. I praise God that all eight leaders received the empowering baptism in the Holy Spirit. On Sunday I noted that all but two, of the thirty-four adults in attendance, received the baptism. I praise God for this and know it will make a tremendous difference for this young congregation.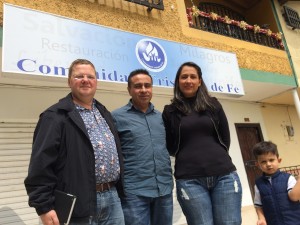 Julie and I will conduct three days of teaching meetings for them that we are inviting the public to on January 16-18.

  God has put such a love in my heart for the people here. They are so hungry for the word of God and anything they can receive of His Spirit. It is a great honor to serve them. I feel very blessed to have made friends so quickly and to have the pleasure of helping them. God has been so good to us. I give the praise and honor to Him. I believe 2015 will be rich in God's presence and love for all who are hungry and thirsty for Jesus. I believe we have turned a corner and will see many souls saved and a greater advance of his Kingdom here in Colombia in 2015. Julie and I can only thank you. We pray that God will increase the love you feel for the Colombian people and that you will receive great rewards spiritually and materially for the sacrifice that you have and do make to help us reach and disciple them. I just can't thank you enough!
Until Jesus gets His full reward,
Charley & Julie